Do you enjoy teaching and learning?
The mission of the Education Club is to unite its members through social interactions to create a learning environment for prospective teachers and the surrounding community.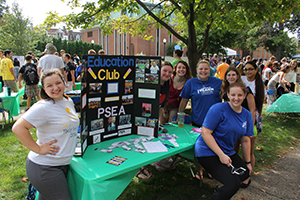 The Wilkes Education Club is a branch of the Pennsylvania Student Education Association PSEA, which is the state version of the National Education Association NEA. 

Whether you plan to be certified in elementary and early childhood, middle level, or secondary -- or simply know that you want to work with children -- you would make a excellent candidate for the Education Club.
Things to look for
More involvement on campus, Campuses that Care Week, Community Reading Day, selling bracelets with Commuter council that benefit the McGlynn Learning Center, PSEA Conference in April, Adventures in Science in April, and many more ways to be involved in the community and on campus!
Anyone is welcome to join!
Whether you are a freshman or senior, an elementary or middle level education major or a secondary education minor, all are welcome!