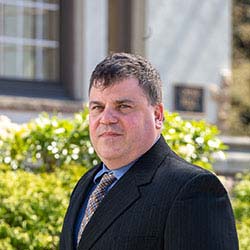 Mr. Michael C. McCree
Associate Director
Admissions
Chase Hall, 2nd Floor
(570) 408-4412
Michael is a 1999 graduate of Wilkes University and also holds a master's degree in education from Wilkes. He is originally from West Orange, N.J., and attended Seton Hall Prep. Michael began his career in higher education in athletics and made the move to admissions in 2011. Helping students find the right-fit college for them is the most rewarding aspect of his career.
Favorite experience at Wilkes as a student
Receiving my bachelor's degree and receiving my conference championship ring for football.
Territory
Luzerne County, Pennsylvania
Favorite place on campus: Chase Hall or Starbucks
Best college advice for prospective students: Find the best fit for you. Make sure you visit campus!
Favorite thing to do in Wilkes-Barre: Attend events at the Mohegan Sun Arena.
Finish the sentence: On Sunday mornings, you can find me playing ball with my son, Mason.
Favorite vacation spot: Wildwood, N.J.
Favorite food: Penne alla vodka
Favorite season and seasonal activity/hobby: My favorite season is the fall and watching college football.
Fun fact: Michael enjoys coaching high school football, listening to Bruce Springsteen, following the New Jersey Devils, the beach at Wildwood, and walking around New York City.
Favorite quote: "If you are afraid to fail, you will never do the things you are capable of doing." — John Wooden