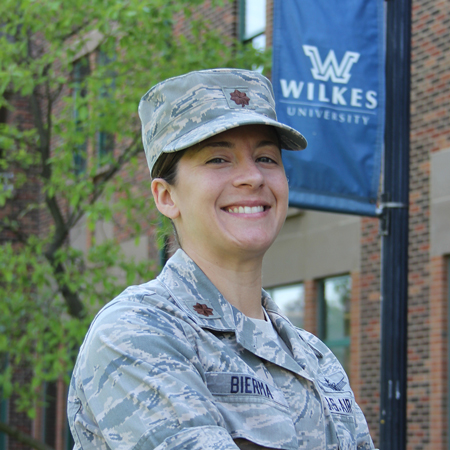 Major Melissa K. Bierma
Operations Flight Commander Re
Aerospace Studies
University on Main St, 112
(570) 408-4872
Major Melissa K. Bierma is the Operations Flight Commander for Air Force Reserve Officers Training Corps, Detachment 752, Wilkes University. In this capacity, she is responsible for training, recruiting, motivating and counseling highly qualified young men and women as prospective Air Force Officers.
Major Bierma earned her bachelor's degree in Biology from Wright State University in Dayton, OH and subsequently commissioned through Air Force Reserve Officer Training Corp, Detachment 643 in March 2006. In addition, she also earned a Master of Science in Industrial and Human Factors Engineering from Wright State University in 2012.
Her career assignments include the 320th Missile Squadron, F.E. Warren AFB, Wyoming where she served as a Minuteman III Missile Combat Crew Commander, Alternate Command Post Commander, and Assistant Flight Commander. Prior to her current assignment, Captain Bierma served as Assistant Director of Operations for the 50th Operations Group, Detachment 1, at the NOAA Satellite Operations Facility in Suitland, MD as part of an interagency team managing daily operations for the Defense Metrological Satellite Program (DMSP).
EDUCATION
2006 Bachelor of Science Degree in Biology, Wright State University, Dayton, OH
2007 Air and Space Basic Course, Maxwell AFB, AL
2012 Master of Science in Industrial and Human Factors Engineering, Wright State University, Dayton, OH
2012 Squadron Officer School, Maxwell AFB, AL
2014 Department of Commerce Spectrum Management Course
ASSIGNMENTS
May 2006 – November 2006, Student, Undergraduate Missile Training, Vandenberg AFB, CA
November 2006 – December 2010, Deputy Missile Combat Crew Commander, Missile Combat Crew Commander, Assistant Flight Commander, 320th Missile Squadron, 90th Missile Wing, F.E Warren AFB, Cheyenne, WY
January 2011 – December 2014, Space Systems Flight Commander, Assistant Director of Operations/Executive Officer, 50th Operations Group, Detachment 1, NOAA Satellite Operations Facility, Suitland, MD
Jan 2015 – Present, Recruiting Flight Commander, Operations Flight Commander, AFROTC Det 752, Wilkes-Barre PA
OPERATIONAL INFORMATION
Space Professional Level II, Master Space Badge
Basic Missile Operations Badge
Experience: Nuclear operations, Space Situational Awareness, Environmental Monitoring
Systems: Minuteman III, Defense Meteorological Satellite Program (DMSP)

MAJOR AWARDS AND DECORATIONS
Air Force Commendation Medal
Air Force Achievement Medal with 1 oak leaf cluster
Air Force Outstanding Unit Award with 1 oak leaf cluster
Combat Readiness Medal
National Defense Service Medal
Global War on Terrorism Service Medal
Nuclear Deterrence Operations Service Medal with 'N' device
Air and Space Campaign Medal
Air Force Longevity Service Award with 1 oak leaf cluster
Air Force Training Ribbon

EFFECTIVE DATES OF PROMOTION
Second Lieutenant March 18, 2006
First Lieutenant April 10, 2008
Captain April 10, 2010
Major April 1, 2016
PROFESSIONAL CERTIFICATIONS
Department of Commerce Contracting Officer Technical Representative Level I Certification

(Current as of April 2016)