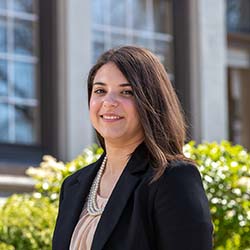 Jessica grew up just a few miles from Wilkes in Swoyersville, Pa., and attended Wyoming Valley West High School. She earned a bachelor's degree in professional writing and a master's in higher education administration. Jessica has over five years of experience in higher education and admissions. She started her position planning undergraduate admissions events at Wilkes in June 2017. Jessica oversees events such as open house, shadow days and the Colonel Overnight Experience.
Why Wilkes?
Wilkes is a welcoming community with great people who really care about the students and their success.
Best college advice for prospective students
Visit all of the schools you are interested in, talk to students and professors, and sit in on classes to get a feel for the community and how you will fit in there.
Title
Body

GET TO KNOW ME

Favorite place on campus: Starbucks!

Favorite thing to do in Wilkes-Barre: I love visiting the farmers market every Thursday throughout the summer and fall.

Finish the sentence: On Sunday mornings, my family and I visit one of our favorite breakfast spots. S&W in Wilkes-Barre has the BEST home fries!

Favorite vacation spot: Anywhere there is a beach!

Favorite food: French fries

Favorite season and seasonal activity/hobby: I love every season! It's one of my favorite things about living in northeastern Pennsylvania. I am also a photographer and enjoy taking photos throughout the changing seasons.

Random fun fact about me: I love to read; I read one to three books a week.

Favorite quote: "Words are our most inexhaustible source of magic." – Albus Dumbledore