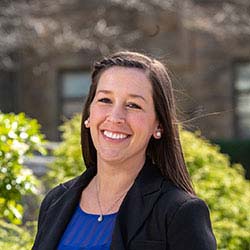 Erin was born and raised in Kingston, Pa., which is right outside of Wilkes-Barre. She attended Wyoming Valley West High School. After earning a bachelor's degree in business administration with a concentration in management, Erin started working at Wilkes University in 2016. She is currently in the process of achieving her master's degree in school business leadership.
Best college advice for prospective students
Everyone will be in the same boat as you. Don't be afraid to put yourself out there and meet new people. College is an irreplaceable experience that will go by with the blink of an eye!
Territory
Pennsylvania counties of Carbon, Lackawanna, and Wayne.
Favorite thing to do in Wilkes-Barre: Go for runs on the dike.
Finish the sentence: On Sunday mornings you could find me lounging on the couch, drinking coffee and watching "Hoarders."
Favorite vacation spot: You can always find me on the beach on vacations. My bucket list beach would be Bora Bora.
Favorite food: Pizza!! Everyone from Wilkes-Barre area has their favorite pizza joint. Mine is Two Gals!
Favorite season and seasonal activity/hobby: Summer. I love being outside, especially swimming in a pool or at the beach!
Fun fact: My middle name is Dawn, because I was born at the crack of dawn.
Favorite quote: "You must be the change you wish to see in the world." —Gandhi