First Destination Survey of the Class of 2018
Information below reflects the responses of the Bachelor's degree recipients of the Class of 2018 members regarding their first destination, post-graduation career outcomes status. Data was collected by Wilkes University Career Services at a senior class meeting in the month of April prior to graduation, and via two additional survey administrations, at six months and at one year post-graduation. A knowledge rate of the activity of 68% of the spring, summer and winter Bachelor's degree recipients was attained. Salary data is offered for full-time positions for majors attaining an adequate sample size.
Career Outcomes Summary Data of the Class of 2018
Of the graduates who responded to the survey:
96% are working or attending graduate/professional school in areas related to desired career outcomes.
77% of these graduates reported that they are working full-time.
20% of these alum are attending graduate/professional schools.
3% are in a military career.
4% of the class is seeking full-time positions in their fields; working in temporary positions in their majors, or in part-time positions.
76% of the graduates are working in northeastern Pennsylvania (NEPA) or in cities within Pennsylvania.
73% of those attending graduate/professional schools are doing so in NEPA and other Pennsylvania cities.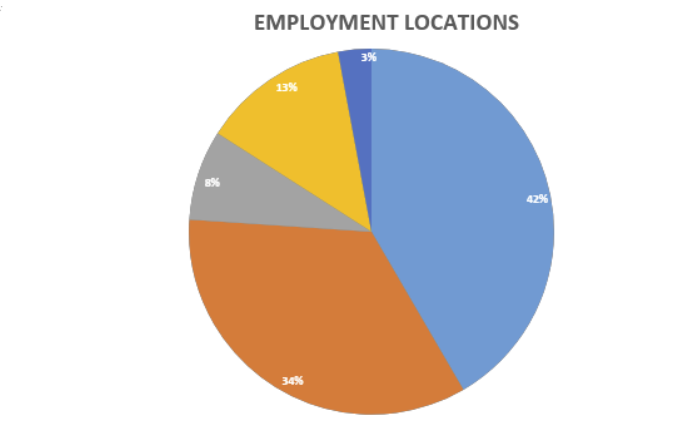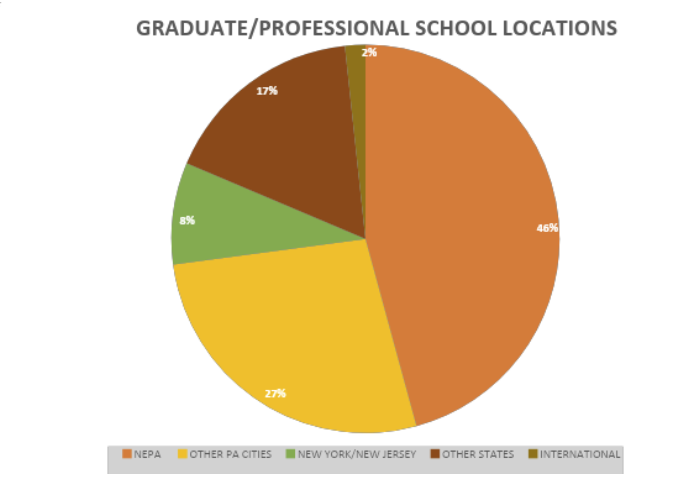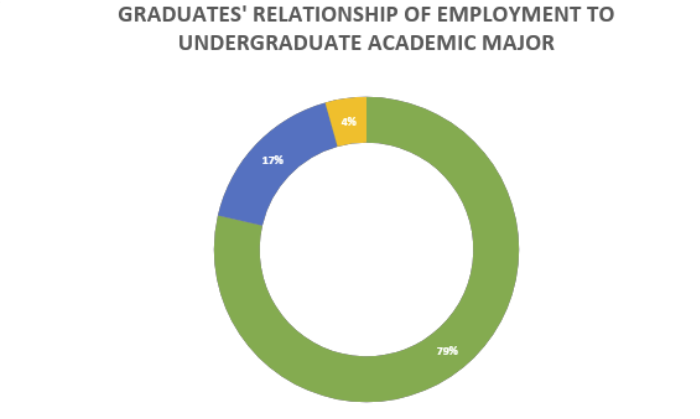 Full-time Employers and Graduate/Professional Schools
LISTED BY SCHOOLS AND MAJORS
SALARY DATA: LISTED FOR GROUPS OF ADEQUATE SAMPLE SIZE, SOME SALARIES NOT REPORTED BY RESPONDENTS.
ACCOUNTING
---
EMPLOYERS:
BAKER TILLY, WYOMISSING, PA
BOWMAN AND COMPANY, VOORHEES, NJ
COHN RESNICK LLP, BALTIMORE, MD
CONAN, GUNTESCI AND CO., SCRANTON, PA
COX AUTOMOTIVE INC., PHOENIX, AZ
CSS INDUSTRIES , MOUNTAIN TOP, PA
DBI, SCRANTON, PA
DEPARTMENT OF THE NAVY - NAVSUP
HERBEIN AND CO., WILKES-BARRE, PA
KRONICK KALADA BERDY AND CO., KINGSTON, PA
PNC, WILKES-BARRE, PA
PRICE WATERHOUSE COOPERS LLC, PHILADELPHIA, PA
RUTKOSKI FENCING, WILKES-BARRE, PA
SKC AND CO., MONTVILLE, NJ
SPROWLS & CO., CHANDLER, AZ
THE LEPPERT GROUP LLC, SANDYSTON, NJ
THIELLS, NEW YORK, NY
SALARY RANGE:
GRADUATE SCHOOLS:
WILKES UNIVERSITY, WILKES-BARRE, PA (2)
MILITARY:
UNITED STATES AIR FORCE, ROME, NY
BUSINESS ADMINISTRATION, ENTREPRENEURSHIP
EMPLOYERS:
HOUSE OF BRICKS, WILKES-BARRE, PA
VIVE FITNESS CENTER, KINGSTON, PA
SALARY RANGE:
FINANCE
---
EMPLOYERS:
COMMUNITY BANK, OLYPHANT, PA
RKL WEALTH MANAGEMENT, LANCASTER, PA
SERAPH CONSULTING, LAS VEGAS, NEVADA
AL ZAMIL EXCHANGE, SAUDI ARABIA
MORGAN STANLEY, WILKES-BARRE, PA
BERKSHIRE HATHAWAY GUARD, WILKES-BAREE, PA
SALARY RANGE:
GRADUATE SCHOOLS:
DUQUESNE LAW SCHOOL, PITTSBURGH, PA
WASHINGTON AND LEE SCHOOL OF LAW, LEXINGTON, VA
WILKES UNIVERSITY, WILKES-BARRE, PA
MANAGEMENT
---
EMPLOYERS:
ARIZONA ANIMAL WELFARE, PHOENIX, AZ
COSTCO, GILBERT, AZ
JOSEPH MIRANDA, WILKES-BARRE PA
LORD AND TAYLOR, KING OF PRUSSIA, PA
US HYDRATIONS, PITTSTON, PA
WAL-MART, CHANDLER, AZ
WILKES UNIVERSITY - OFFICE OF INTERNATIONAL ENGAGEMENT , WILKES-BARRE, PA
SALARY RANGE:
GRADUATE SCHOOLS:
MARYWOOD UNIVERSITY, SCRANTON, PA
WIDENER UNIVERSITY COMMONWEALTH LAW SCHOOL, HARRISBURG, PA
WILKES UNIVERSITY, WILKES-BARRE PA (2)
MILITARY:
UNITED STATES AIR FORCE, BASE, SC
MARKETING
---
EMPLOYERS:
BANK WORKS, WEST HAZLETON, PA
DELUXE ENTERTAINMENT, MOOSIC, PA
ENTERPRISE RENT A CAR, ALLENTOWN, PA
EN-X2 MARKETING, DALLAS, PA
JOHNSTON AND MURPHY, POTTSTOWN, PA
PENN FOSTER, SCRANTON, PA
RIVERSIDE NURSING, WILKES-BARRE, PA
WAL-MART, PHILADELPHIA, PA
SALARY RANGE:
GRADUATE SCHOOLS:
UNIVERSITY OF SYDNEY, SYDNEY, AUSTRALIA
WILKES UNIVERSITY, WILKES-BARRE, PA
MILITARY:
UNITED STATES ARMY, FORT JACKSON, SC
SPORTS MANAGEMENT
EMPLOYERS:
AZ SPORTS AND ENTERTAINMENT COMMISSION, MESA, AZ
BOSTON CANNONS, QUINCY, MA
ENTERPRISE RENT A CAR, WEST LEBANON, NH
PIONEER FINANCIAL, MATAMORAS, PA
GRADUATE SCHOOLS:
WILKES UNIVERSITY, WILKES-BARRE, PA
COMMUNICATION STUDIES
---
EMPLOYERS:
BEAR STAFFING SERVICES, FLEETWOOD, PA
C.H. ROBINSON, CRANFORD, NJ
IQVIA, ORANGE, NJ
THE ANTHROPOLOGIST, NEW YORK, NY
THE TIMES LEADER, WILKES-BARRE, PA
WECRUITR.COM, FERNWOOD, NJ
GRADUATE SCHOOLS:
SYRACUSE UNIVERSITY, SYRACUSE, NY
CRIMINOLOGY
EMPLOYERS:
COMMUNITY COUNSELING SERVICES, WILKES-BARRE, PA
PA DEPARTMENT OF LABOR & INDUSTRY, HAZLETON, PA
GLEN MILLS SCHOOLS, GLEN MILLS, PA
JUSTICE WORKS YOUTH CARE, FRACKVILLE, PA
LUZERNE COUNTY PROBATION SERVICES, WILKES-BARRE, PA
MARSY'S LAW FOR PENNSYLVANIA, HARRISBURG, PA
SUSSEX COUNTRY SHERIFF'S DEPT., NEWTON, NJ
WOMEN'S RESOURCE CENTER, SCRANTON, PA
SALARY RANGE:
GRADUATE SCHOOLS:
MARYWOOD UNIVERSITY, SCRANTON, PA
MILITARY:
UNITED STATES AIR FORCE, WRIGHT-PATTERSON AIR FORCE BASE, DAYTON, OH
UNITED STATES AIR FORCE, PENSACOLA, FL
UNITED STATES AIR FORCE, RANDOLPH AFB, UNIVERSAL CITY, TX
DIGITAL DESIGN & MEDIA ART / INTEGRATIVE MEDIA
---
EMPLOYERS:
LEHIGH VALLEY PHANTOMS, ALLENTOWN, PA
LSEO, WILKES-BARRE, PA
NET DRIVEN, DICKSON CITY, PA
PREMIUM RETAIL SERVICES, CHESTERFIELD, MO
SPOOKY NOOK SPORTS, LANCASTER, PA
SALARY RANGE:
GRADUATE SCHOOLS:
MARYWOOD UNIVERSITY, SCRANTON, PA
ENGLISH
---
EMPLOYERS:
CARAHSOFT, RESTON, VA
CASA GRANDE SCHOOL DISTRICT, CASA GRANDE, AZ
CROWD CONTENT, BUFFALO, NY
FELLERMAN AND CIAMBOLI LAW, KINGSTON, PA
INSTITUTE OF READING DEVELOPMENT, ALLENTOWN PA
SLACK INC., THOROFARE, NJ
SOURCE 4 TEACHERS, CHERRY HILL, NJ
VIRTUAL ASSIST , PITTSTON, PA
WINCHESTER PUBLIC SCHOOLS, WINCHESTER VA
SALARY RANGE:
GRADUATE SCHOOLS:
HOFSTRA UNIVERSITY, HEMPSTEAD, NY
HISTORY
---
EMPLOYERS:
CENTRAL BUCKS SCHOOL DISTRICT - LENAPE MIDDLE SCHOOL, DOYLESTOWN, PA
PLAN GURU, WILKES-BARRE, PA
GRADUATE SCHOOLS:
PENN STATE UNIVERSITY DICKINSON SCHOOL OF LAW, CARLISLE, PA
BINGHAMTON UNIVERSITY, BINGHAMTON, NY
INTERNATIONAL STUDIES
EMPLOYERS:
SHIELD TOURISM, SAUDI ARABIA
MMI PREPARATORY SCHOOL, FREELAND, PA
MUSICAL THEATRE
---
EMPLOYERS:
ROYAL CARRIBEAN CRUISE SHIPS, INT'L
NEUROSCIENCE
---
EMPLOYERS:
GEISINGER, WILKES-BARRE, PA
NEUROFEEDBACK INSTITUTE OF NJ, HIGHLAND PARK, NJ
THE CENTER LLC, KING OF PRUSSIA, PA
WILKES UNIVERSITY, WILKES-BARRE, PA
SALARY RANGE:
GRADUATE/PROFESSIONAL SCHOOLS:
COLUMBIA UNIVERSITY, NY, NY
KUTZTOWN UNIVERSITY, KUTZTOWN, PA
STONY BROOK UNIVERSITY, STONY BROOK, NY
WILKES UNIVERSITY, WILKES-BARRE, PA
WILKES UNIVERSITY BSN PROGRAM, WILKES-BARRE, PA
POLITICAL SCIENCE
---
EMPLOYERS:
GRADUATE/PROFESSIONAL SCHOOLS:
COLORADO STATE UNIVERSITY, FORT COLLINS, CO
VERMONT LAW SCHOOL, SOUTH ROYALTON, VT
WIDENER UNIVERSITY COMMONWEALTH LAW SCHOOL, HARRISBURG, PA (2)
PSYCHOLOGY
---
EMPLOYERS:
CARING COMMUNITIES, WILKES-BARRE, PA
CHILDREN'S CHOICE, BELLMAWR, NJ
CHILDREN'S BEHAVIORAL SERVICES, LARKSVILLE, PA
MONMOUTH MEDICAL CENTER,, LAKEWOOD, NJ
OSF HEALTHCARE, PEORIA, IL
THE CENTER, KING OF PRUSSIA, PA
SALARY RANGE:
GRADUATE/PROFESSIONAL SCHOOLS:
WILKES UNIVERSITY, WILKES-BARRE, PA
WIDENER UNIVERSITY, CHESTER, PA
GEORGIA SOUTHERN UNIVERSITY, STATESBORO, GA
MARYWOOD UNIVERSITY, SCRANTON PA (2)
KUTZTOWN UNIVERSITY, KUTZTOWN, PA
SOUTHERN ILLINOIS SCHOOL OF LAW, CARBONDALE, IL
SOCIOLOGY
---
EMPLOYERS:
FIRST HOSPITAL, KINGSTON, PA
GLEN MILLS SCHOOLS, GLEN MILLS, PA
RESOURCES FOR HUMAN DEVELOPMENT, PHILADELPHIA, PA
SALARY RANGE:
GRADUATE SCHOOLS:
MARYWOOD UNIVERSITY, SCRANTON, PA
SPANISH
---
EMPLOYERS:
SANOFI PASTEUR, SWIFTWATER, PA
GRADUATE SCHOOL:
EASTERN UNIVERSITY, ST. DAVIDS, PA
EDUCATION
---
EMPLOYERS:
MINERSVILLE SCHOOL DISTRICT, MINERSVILLE, PA
BUILDING BLOCKS LEARNING CENTER, WILKES BARRE, PA
JENNY LYNN ACADEMY, KINGSTON, PA
CASA GRANDE SCHOOL DISTRICT, CASA GRANDE, AZ
CHICAGO SCHOOL DISTRICT, CHICAGO, IL
CRESTWOOD SCHOOL DISTRICT, MOUNTAINTOP, PA
CENTRAL BUCKS SCHOOL DISTRICT, DOYLESTOWN, PA
WILKES-BARRE AREA SCHOOL DISTRICT, WILKES-BARRE, PA
WINCHESTER PUBLIC SCHOOLS, WINCHESTER, VA
GRAHAM ACADEMY, KINGSTON, PA
POCONO MOUNTAIN WEST, POCONOS, PA
SALARY RANGE:
GRADUATE SCHOOLS:
DELAWARE VALLEY UNIVERSITY, DOYLESTOWN, PA
NURSING
---
EMPLOYERS:
BAPTIST HEALTH SYSTEM, CORBIN, KY
BRANDON HOSPITAL, BRANDON, FL
CAYUGA MEDIAL CENTER, ITHACA, NY
EVANGELICAL HOSPITAL, LEWISBURG, PA
FIRST HOSPITAL, KINGSTON, PA
GEISINGER SOUTH, WILKES-BARRE, PA (2)
GEISINGER MEDICAL CENTER, DANVILLE, PA (6)
GEISINGER CMC, SCRANTON, PA (4)
GEISINGER WYOMING VALLEY, WILKES-BARRE, PA (14)
GEISINGER HOLY SPIRIT, CAMP HILL, PA (2)
HAHNEMANN UNIVERSITY HOSPITAL, PHILADELPHIA, PA
HENRY FORD HOSPITAL, DETROIT, MI
HERSHEY MEDICAL CENTER, HERSHEY, PA
LADY OF LORDES HOSPITAL, BINGHAMTON, NY
LEHIGH VALLEY HEALTH NETWORK, ALLENTOWN, PA (8)
LEHIGH VALLEY HOSPITAL, POCONO, PA (2)
LIQUID AGENTS HEALTHCARE, PLANO, TX
MOSES TAYLOR HOSPITAL, SCRANTON, PA (6)
ORTHO VIRGINIA, VIRGINIA BEACH, VA
REGIONAL HOSPITAL, SCRANTON, PA (3)
SCHUYLKILL CENTER GENESIS HEALTHCARE, POTTSVILLE, PA
ST. LUKES UNIVERSITY HOSPITAL, BETHLEHEM, PA (2)
TOWER HEALTH-READING HOSPITAL, READING, PA
UNIVERSITY OF VIRGINIA MEDICAL CENTER, CHARLOTTESVILLE, VA
UPMC, PITTSBURGH, PA
UPMC SUSQUEHANNA, WILLIAMSPORT, PA
WILKES-BARRE GENERAL HOSPITAL, WILKES-BARRE PA (4)
SALARY RANGE:
GRADUATE SCHOOLS:
WESTERN GOVERNORS UNIVERSITY, SALT LAKE CITY, UT
WALDEN UNIVERSITY, MINNEAPOLIS, MN
BIOLOGY
---
EMPLOYERS:
A DUIE PYLE, WILKES-BARRE, PA
CARE GIVERS OF AMERICA, PLAINS, PA
MERCK AND CO., COLLEGEVILLE, PA
PFIZER, NY, NY
SANOFI PASTEUR, SWIFTWATER, PA
THE WALT DISNEY COMPANY, ORLANDO, FL
SALARY RANGE:
GRADUATE/PROFESSIONAL SCHOOLS:
WILKES UNIVERSITY, WILKES-BARRE, PA (5)
UNIVERSITY OF NEBRASKA, KEARNEY, NE
PHILADELPHIA COLLEGE OF OSTEOPATHIC MEDICINE, PHILADELPHIA, PA
INDIANA UNIVERSITY, INDIANAPOLIS, IN
PENN STATE COLLEGE OF MEDICINE, HERSHEY, PA
SETON HALL UNIVERSITY, SOUTH ORANGE, NJ
THOMAS JEFFERSON UNIVERSITY, PHILADELPHIA, PA
MILITARY:
CHEMISTRY
---
EMPLOYERS:
SANOFI PASTEUR, SWIFTWATER, PA
AVIDEA TECHNOLOGIES, BALTIMORE, MD
SALARY RANGE:
MATHEMATICS & COMPUTER INFORMATION SYSTEMS
---
EMPLOYERS:
GEISINGER, BLOOMSBURG, PA
SALARY RANGE:
ELECTRICAL ENGINEERING
---
EMPLOYERS:
AMAZON FULFILLMENT, HAZLETON, PA
BAE SYSTEMS, ENDICOTT, NY
LOCKHEED MARTIN, ARCHBALD PA
NAVSEA, PHILADELPHIA, PA
ON SEMICONDUCTOR, MOUNTAIN TOP, PA (2)
PRIDE MOBILITY, EXETER, PA
SECO, READING, PA
TOBYHANNA ARMY DEPOT,TOBYHANNA, PA
WADI AL HANICH HEALTHY WATER FACTORY, SAUDI ARABIA (2)
SALARY RANGE:
GRADUATE SCHOOLS:
WILKES UNIVERSITY, WILKES-BARRE, PA (2)
TEMPLE UNIVERSITY, PHILADELPHIA, PA
ENGINEERING MANAGEMENT
---
EMPLOYERS:
RIYADYH BLOCK FACTORY, JEDDAH, PA
DEVOTEAM, SAUDI ARABIA
FABRICATED COMPONENTS, STROUDSBURG, PA
ENVIRONMENTAL ENGINEERING, EARTH & ENVIRONMENTAL SCIENCE
EMPLOYERS:
ANDRITZ, INC., MUNCY, PA
COWAN ASSOCIATES, INC., QUAKERTOWN, PA
EARTHRES GROUP, INC., PIPERVILLE, PA
IES ENGINEERS, BLUE BELL, PA
LEES ENVIRONMENTAL, PORT RICHEY, FL
MERICLE COMMERCIAL REAL ESTATE SERVICES, WILKES-BARRE, PA
PENN E&R, HATFIELD, PA
PENNSYLVANIA AMERICAN WATER, MILTON, PA
RETTEW, ALLENTOWN, PA
REUTHER AND BOWEN, DUNMORE, PA
SP2 TECHNOLOGIES, INC., VALRICO, FL
SUSQUEHANNA RIVER BASIN COMMISSION, HARRISBURG, PA
THE CROSSROADS GROUP, HAMBURG, PA
TIOGA ENVIRONMENTAL CONSULTANTS, LLC, TUNKHANNOCK, PA
WORKBRIDGE ASSOCIATES., PHILADELPHIA, PA
SALARY RANGE:
GRADUATE SCHOOLS:
UNIVERSITY OF DELAWARE, NEWARK, DE
VILLANOVA UNIVERSITY, PHILADELPHIA, PA (2)
MECHANICAL ENGINEERING
---
EMPLOYERS:
ADVANCED DOOR TECHNOLOGIES, EAST STROUDSBURG, PA
ASTRO MACHINE WORKS, EPHRATA, PA
BLUE RIDGE PRESSURE CASTING , LEHIGHTON, PA
BRIAN CAMPBELL FARMS, BERWICK, PA
CORNELL COOKSON, MOUNTAIN TOP, PA (2)
DESIGN GROUP, ALLENTOWN, PA
DIAMOND, WYOMING, PA
E-FINITY DISTRIBUTION GENERATION, PHILADELPHIA, PA
GENERAL DYNAMICS, SCRANTON, PA
JACOBS, SAUDI ARABIA
KNOLL INC., EAST GREENVILLE, PA
MACOBY RUN GOLF COURSE, GREENLANE, PA
MERCK AND CO., SUNBURY, PA
MITSUBISHI CHEMICAL HOLDINGS, HATFIELD, PA
POWERSCHOOL GROUP, BETHLEHEM, PA
SMITH MILLER ASSOCIATES, WILKES-BARRE, PA
STRUCTURE TONE, BETHLEHEM, PA
TESEOR ALINTE COMPANY, IVYLAND, PA
TOYOTA MOTORS, PRINCETON, INDIANA
UGI, WILKES-BARRE,PA
US ARMY CORPS OF ENGINEERS, WASHINGTON, DC
WILKES UNIVERSITY - DEPT OF PHYSICS AND ENGINEERING, WILKES-BARRE, PA
SALARY RANGE:
GRADUATE SCHOOLS:
CARNEGIE MELLON UNIVERSITY, PITTSBURGH, PA
WILKES UNIVERSITY, WILKES-BARRE, PA (4)
MILITARY:
UNITED STATES ARMY, FORT BRAGG, NC