Year of the Vote: Gender, Politics, & Power
In 2020, Wilkes University presented Year of the Vote: Gender, Politics, & Power as a yearlong celebration of the ratification of the 19th amendment and women's right to vote.
"Year of the Vote" was a collaborative interdisciplinary project of Wilkes University faculty which explores issues women have historically faced, challenges women face today, and dicussions about the future. This series consisted of monthly thematic lectures, podcasts that correlate with our monthly theme, monthly EqualiTEAS and other special events. Academic departments represented in the series include:
Women & Gender Studies
English
Integrative Media
Psychology
Political Science
History
Nursing
The goal of this series was to educate our community about the achievements of our regional and national foremothers while empowering students to engage with their community throughout this monumental year.
"Right in the Kisser" Podcast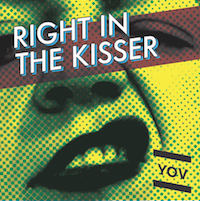 Introduction to the Year of the Vote project focusing on terminology and a discussion on the waves of feminism featuring:
Lisa Reynolds (host), Assistant Professor of Integrative Media
Dr. Mia Briceno, Associate Professor of Communication Studies
Dr. Ellen Newell, Associate Professor of Psychology
Heather Sincavage, Assistant Professor/Director of the Sordoni Art Gallery.
Listen to all episodes on Spotify, Apple Podcasts, Soundcloud, or acast!
---
"Year of the Vote" Events
Lecture: January 30 at 5 p.m. - What Binds Us Tight by Eva Polizzi, fibers artist
EqualiTEA: February 11 from 11 a.m. - 1 p.m.


Discussion: Women's healthcare & activist poster making
Activity: Poster-making session

Event: February 14-15 at 7 p.m. in the Henry Ballroom - Vagina Monologues

Lecture: February 27 at 4:30 p.m. - Black Liberation: Race, Class & Colonialism in W.E.B. Du Bois and Frantz Fanon by Dr. Jap Nanak Makkar, English Department
Open Mic/Poetry Slam: February 27 after the lecture
Celebrate International Women's Day March 8!
Lecture: March 12 at 4:30 p.m. - Not Just Housewives: Women's Activism before the 19th Amendment by Dr. Amy Sopcak-Joseph, History Department
Women's Equality Day campus intervention | August 26

Women's Equality Day is celebrated annually on August 26 to commemorate the passage of the 19th Amendment in the United States of America. The 19th Amendment provides equal rights to women, including the right to vote (NWHA). Our celebration is a campus-wide intervention which will include signs, posters and faculty wearing t-shirts expressing how gender disparities still exist in the workplace. Our social media content will provide a wider context to the statistics they see displayed all across campus.
Constitution Day public reading (WCLH) | September 17
Constitution Day is an American federal observance that recognizes the adoption of the United States Constitution and those who have become U.S. citizens. It is normally observed on September 17, the day in 1787 that delegates to the Constitutional Convention signed the document in Philadelphia.
We will celebrate Constitution Day with a public reading of the Declaration of Sentiments, Frederick Douglass' speech from Seneca Falls and Sojourner Truth's speech "Ain't I a Woman" on WCLH. We will also have activities that people can contribute to on campus.
"Votes for Women!: A Constitution Day Lecture" | September 17
The U.S. Constitution is silent on Americans' right to vote; it took decades of struggle and setbacks to pass a Constitutional amendment that impedes states' ability to deny suffrage on the basis of sex. This Constitution Day, Dr. Amy Sopcak-Joseph, Assistant Professor of History, will discuss the historic events that led to the passage of the 19th Amendment. Dr. Andreea Maierean, Assistant Professor of Political Science, will compare women's suffrage movements around the world and will conclude with a discussion of activism and voting rights in today's world.
"Gender, Politics, & Power since the 19th Amendment: A Virtual Roundtable Discussion" | October 5, 6 p.m.
Join for a Zoom roundtable discussion on Women's Suffrage Centennial. Participants will address questions on political equality and the fight against gender discrimination.